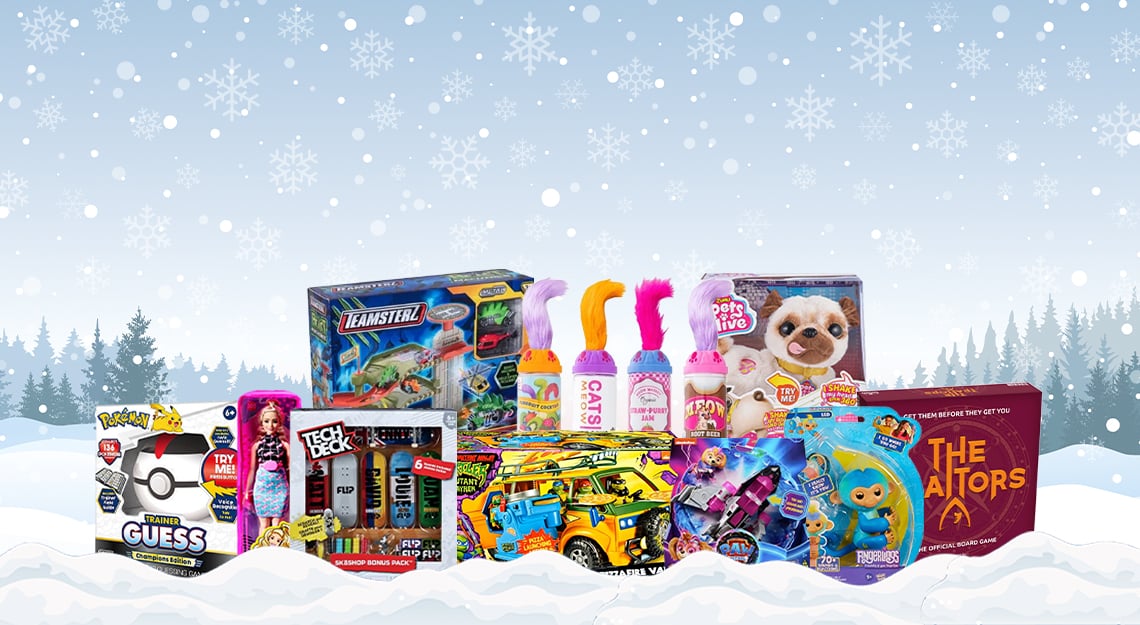 Welcome to the ultimate destination for all things Christmas toys! As the festive season quickly approaches, retailers across the UK are gearing up to provide consumers with the most sought-after and captivating toys that will make this Christmas truly unforgettable.
Our expert buyers have done all the research for you and curated their top 10 best-selling toys for Christmas 2023. Join us as we unwrap the hottest trends on every child's list, to make sure your customers experience a Christmas filled with wonder and delight.
1. Teenage Mutant Ninja Turtles

Get ready, because Teenage Mutant Ninja Turtles: Mutant Mayhem is making waves as one of the coolest movies of the year. It's no surprise that this turtle-powered craze is taking over Christmas wish lists this year and we have just the Christmas toy to make your sales soar.
The Movie Pizza Van is THE must-have item for 2023. It features a motorised pizza launcher and is compatible with your customers favourite TMNT figures. Fans are going dough-eyed for this brand-new electronic vehicle.
If you want to offer your customers the ultimate selection of TMNT goodies, we've also got a great range of movie figures. So, whether your customers are team Leo, Raph, Donnie or Mikey, we've got something for everyone.
How does it work?
The TMNT Pizza Van opens from the front and back and when the pizza slice button is hit the side door swings open to reveal a pizza launcher. This fires up to 8 pizza pies during epic battles and it's even adjustable to fire at bad guys from varying distances. The pizza van can fit all four action figures inside (sold separately).
2. Barbie Fashionista Dolls

Barbie-mania has hit due to the brand-new movie released this year and it's therefore predicted Barbie toys are going to be the star of the show and fly off the shelves this Christmas.
Barbie is not just a doll; she's a timeless classic that has been spreading happiness in the lives of children since her debut back in 1959. Now, parents have the incredible opportunity to share the same joy and nostalgia with their children, creating a heart-warming legacy.
So, get ready to make dreams come true and be part of the Barbie magic this Christmas.
3. Pokémon Trainer Guess Champions Edition

It's no secret that Pokémon is still going strong, and it seems like the excitement just keeps growing year after year.
There are some fantastic reasons behind Pokémon's amazing success: the power of nostalgia, it's ability to adapt, the joy of collecting and the captivating stories it tells. It's incredible how Pokémon manages to capture the imaginations from different generations and stay fresh in a world that's always changing.
With the Pokémon Trainer Guess Champions edition your customers can have a blast guessing and collecting 136 Pokémon from the greatest Trainers across all regions, from Kanto to Galar. Get ready for endless Christmas fun with this fantastic, interactive game!
How does it work?
The clever Poké Ball uses speech recognition technology to interact with your young customers. With a series of yes or no questions the Poké Ball will guess which Pokémon they are thinking of and automatically store it in their electronic collection.
4. Paw Patrol Mighty Movie Themed Vehicle – Skye

Films have had a huge influence on toy sales in 2023. Alongside the TMNT and Barbie movie we also had Paw Patrol: The Mighty Movie. This made a huge $167.1 million at box office and appeals to younger customers of 3 years and over.
Paw Patrol's combination of engaging characters, positive messages, colourful animation and readily available toys and merchandise is what has made it a beloved children's show and successful franchise. It's ability to connect with young audiences and provide both entertainment and educational value has seen popularity soar and many Christmas lists filled with Paw Patrol toys this year.
One of those toys being the Paw Patrol Mighty Movie Themed Skye vehicle. This fighter jet toy features exciting sound effects with synchronised flashing lights and authentic details and styling.
5. Teamsterz Park & Drive Garage Beast Machines

In today's tech-savvy world, there's something refreshingly simple and timeless about toy cars that's truly heart-warming. They open up a world of adventures, all while secretly helping kids to develop fine motor skills and teaching them a thing or two about physics without them even realising! Plus, let's not forget it's a pocket-friendly option that will brighten up the faces of kids all across the UK this Christmas.
Guaranteed to be a hit under the tree is the Teamsterz Park & Drive Garage Beast Machines set. This playset includes three levels with connecting ramps, a manual operated lift, a helipad and moveable barrier. It also includes two Beast Machine cars for endless play possibilities that will last well into the New Year.
6. Fingerlings

Go bananas for Fingerlings! These pint-size companions have taken the toy world by storm and are sure to bring joy to kids of all ages this Christmas.
Fingerlings feature over 70 sounds and reactions including singing, swinging, blinking or even blowing kisses in response to a child's interactions. Their hearts beat when placed on your finger and include varying personalities and reactions when placed on the finger to off it.
The interactive friends are small and easy to carry, making them great companions whilst out and about or whilst filming those all-important TikTok videos.
7. The Traitor Board Game

It's not just films that have influenced the toy industry this year, the hit TV show that became our new obsession in 2023, The Traitors has also created a fun and mysterious board game for family and friends to battle over this Christmas.
Board games are in many households, a beloved Christmas tradition (and no doubt the cause of a few fall outs) which means they make popular gifts year after year. Faithful's and Traitor alike must complete missions to earn money for the prize fund and The Traitor will earn the right to murder at night. The aim of the game: get them before they get you!
8. Misfittens

Kids can't get enough of collectible plush toys and that's why Misfittens HAD to feature on our top Christmas toys list. The comical group of cat plushies are inspired by the #ifitsisits meme that has taken the internet by storm this year.
The Misfittens more than double in size once out of their mis-fitting containers and there are twelve designs to collect making them a desirable and on trend addition under the tree.
9. Tech Deck Bonus Sk8 Shop

Tech Deck is the real deal when it comes to finger flipping fun for skateboarding fans. Each 96mm fingerboard is decked out with legit graphics from the biggest skate companies in the world. The bonus pack includes everything your customers will need to build 6 custom boards, including stickers, wheels and tools.
Your customers can collect the deck with this fantastic, affordable stocking filler!
10. Pets Alive Poppy the Booty Shakin' Pug

Pets Alive are back this year with another exciting addition to their Christmas line up. One of our top recommendations for this year is Poppy the Twerking Pug.
Poppy is all about spreading joy and laughter through dancing, grooving and moving and will leave your customers in stitches. With her infectious energy and repertoire of three catchy songs, her life like design captures the charming personality of pugs perfectly.
Poppy the Twerking Pug is sure to be a hit this festive season but don't forget to stock this next to those all important batteries so there are only tears of joy come Christmas morning.
And there you have it! We've shared our list of hottest Christmas toys that are sure to guarantee a Christmas to remember. From the latest electronic toys to timeless classics, the toy world is bursting with exciting innovations in 2023.
Don't forget we also stock a fantastic range of Christmas chocolate & sweets, gifts, cards, wrap and pet products to make this your most successful Christmas campaign yet.